Barbeque/midgetgolf 
It's a perfect day out for the entire group. You can play this game as long as you like and it's very suitable for each age. The midgetgolf course has 18 holes. The minimum number of participants is 25. The price is € 21,75 per person.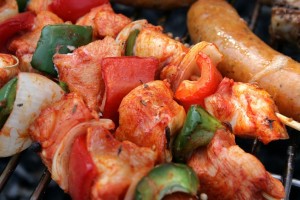 After playing the full course, you and the other participants can enjoy a delicious barbecue we prepared for you. You can make a reservation from Tuesday until Sunday.
For more information and reservations, please contact us by telephone 0031-402300043 or by email: info@witven.nl
"Koersen door de Kempen" 
Price € 41,95 p.p. (excl. drinks)
You will make a 40 km bike tour which will show you all aspects from the "Kempische" landscape, in combination with a lovely diner. You will start your tour at our partycenter with coffee and a piece of home made pie. Then you cycle via "de Malpie" to Dinee Café De Zwaan where you will enjoy the first course of the dinner. Then the tour continues towards Hotel Steensel where a delicious soup will be waiting for you. The main course you will find at Dinee Café De Kempen. The tour will end where it has started, at our partycenter. Here you will enjoy the dessert. At all courses we offer you two possibilities you can choose from. This arrangement is also great for larger groups and can be combined with a drink at the end in one of our rooms.
Click here to reserve this package.
"Onbekommerd genieten in de Brabantse Kempen"
Price € 32,95 p.p. (excl. drinks)
In this tour you have a bike ride combined with a delicious low-calorie, 4-course lunch. This "healthy" route starts at Gasterij 't Dorpsgenot with a nice cup of coffee with a treat. Then you start the route, at Dinee café de Kempen you have the first resting point with a delicious soup. Sufficiently equipped? Then continue with the trip to Waalre, where you will be treated to a main course at 't Brabants Genot. The last stop will take place at our own party center where you will be served a dessert. The menu of this route meets the guidelines for a healthy lunch from the Voedingscentrum.
Click here to reserve this package.
"Oerhollands genieten" 
Morning arrangement € 21.95 p.p. Afternoon arrangement € 27.95 p.p. (both excluding drinks).
You walk this arrangement between Party Center Witven and Gasterij 't Dorpsgenot. In the morning you can choose from which location you start. In the afternoon you start from 't Dorpsgenot. You will be welcomed with a fresh cup of coffee and treat, then your walk through the beautiful countryside. You see a variety of forests and farmlands. At the stopover we offer you a tasty soup. Wonderfully rested you start the second part of the walking tour, which ends in the morning with a luxury sandwich and in the afternoon with a delicious main course.
Click here to reserve this package.